Sudah bermalam-malam aku begini. Sudah hampir dua minggu perkara ni berlanjutan. Tiada yang berubah sejak aku kembali ke Florida.

Bermalam-malam sudah aku menangis tanpa sebab. Bermalam-malam sudah aku takut di tempat tidurku sendiri. Apabila tiba masanya, aku akan letih menangis dan tertidur dengan sendirinya. Kemudian, pastinya, aku akan mengalami mimpi-mimpi yang aku sendiri tidak begitu menggemarinya.

Aku masih ingat ketika aku kecil, aku begitu suka apabila dapat bermimpi. Aku akan ceritakan pada adik kerana kemudiannya, kami akan sama-sama tertawa.


Tapi..usiaku sudah jauh lebih tua. Tidur yang lena merupakan satu nikmat yang aku sendiri sudah lama tidak merasainya. Setiap kali tidur, aku pasti akan termimpikan perkara-perkara yang terjadi padaku dalam sebuah versi yang 'tak boleh blah'. Sekalipun mimpi itu mimpi yang baik, aku akan tetap menyampah. Dan mimpi, mereka biasanya akan menyebabkan aku terjaga di tengah malam dan menyebabkan tidur aku tidak pernah lena.
Aku tahu ada sesuatu yang tidak kena denganku. I seem to be lost.
Aku mencapai iPod dan membuka laptop. Pasti ada sesuatu yang boleh membantu. Sudah berhari-hari aku memikirkannya. Walaupun kenyataan mungkin agak pahit, aku akan tetap cuba untuk menerimanya.
www.webmd.com > Search Box > Types of Mental Illness
"Mood disorders:
These disorders, also called affective disorders, involve persistent feelings of sadness or periods of feeling overly happy, or fluctuations from extreme happiness to extreme sadness. The most common mood disorders are
depression
,
mania
, and
bipolar
disorder."
Hm.. Macam logik je. "Involve persistent feelings of sadness..."
It does looks like my situation.
Klik 'depression'.
Eh?? Ada soalan untuk aku jawab? Soalan apa ni?
Er... Untuk pastikan aku ni depressed atau tak??
Ok.. Tak salah kalau mencuba.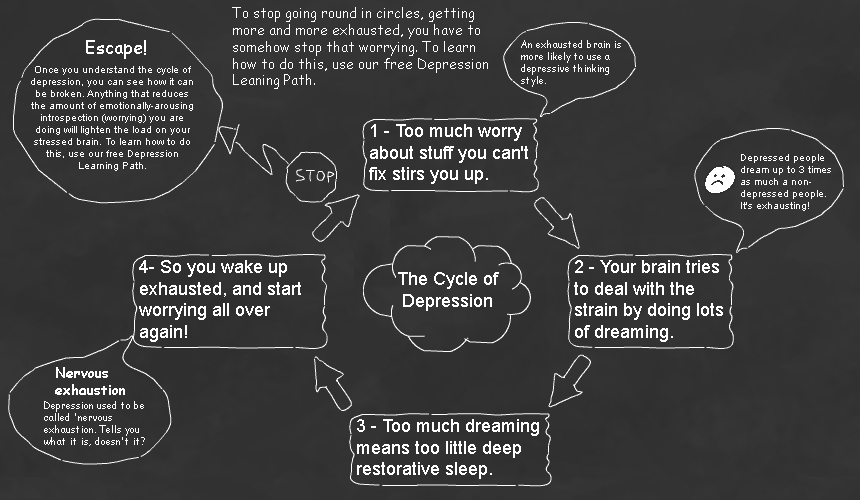 Aku menjawab 3 soalan yang tertera di skrin.
Soalan pertama adalah mengenai apa yang aku rasa.
Soalan kedua adalah apa yang berlaku pada aku (simptom-simptom).
Soalan ketiga adalah apa yang aku lakukan untuk mengurangkan depression.
Jawapan bagi ketiga-tiga soalan yang aku jawab itu sedang dianalisis. Seketika kemudian, tertera sebesar-besar tulisan di skrin..
"Healing Depression : Taking the First Steps"
Jadi, aku ni depressed??
Ok.. No wonder why..
Habis tu, nak buat apa??
Tapi.. Jap.. Ni kan website je?? There must be something else I can read.
"What is Depression?"
"
Everyone can feel blue or sad sometimes, but these feelings may only last for a short period of time. However, when a person has depression, it's more than just a feeling of being sad.
Depression is a mood disorder in which feelings of sadness, along with other symptoms, can interfere with a person's normal day-to-day activities for a long period of time."
It is so true.. Itulah yang aku rasa sejak kebelakangan ni.
"What are the symptoms of depressions?"
"
An episode of major depression lasts for at least 2 weeks. Symptoms include a depressed mood and/or a loss of interest or pleasure in daily activities, along with at least 4 of the following:
Increased irritability
Feelings of worthlessness or guilt
Agitation or restlessness
Fatigue and loss of energy
Trouble thinking, making decisions, or concentrating
Disturbed sleep, such as insomnia
Changes in appetite or weight
Thoughts of death or suicide, suicide attempts"
Ok.. Kesemua ni aku lalui sepanjang dua minggu kebelakangan ni.
Huh.. So is it true?? I am depressed? What should I do??
"
VIIBRYD
®
(vilazodone HCl) Is Proven to Relieve Symptoms of Depression"
Ambil ubat? See the doctor?? Or else..therapist??
The truth is..I am a person with mental illness.. Atau dalam bahasa mudahnya, gila?
Habis tu, kalau aku depressed macam ni, maknanya, aku kena jumpa doktor la?